Dedicated to Excellence Campaign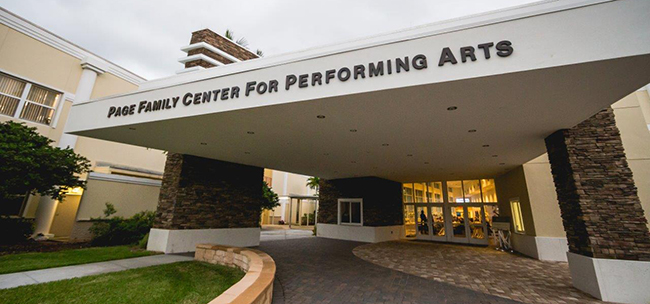 The King's Academy was blessed to open its new Page Family Center for Performing Arts on Tuesday May 2, 2017 in conjunction with the school's Conservatory of the Arts production of Funny Girl.
The 23,000 square foot performing arts center features an 800 seat theater with state-of-the-art lighting and professionally-engineered sound technology. The Page Family Center includes the beautiful 2,000 square foot Esther B. O'Keeffe Lobby and the 3,500 square foot Hobbs Family Stage, featuring a stunning wood-outlined 20' x 50' proscenium arch. Construction of the Page Center provides a permanent home for TKA's nationally-recognized Conservatory of the Arts, while allowing dedicated space for the school's championship athletic programs in the 16,000 square foot M. Nelson Loveland Athletic Center.
A special thank you to the more than 400 donors who contributed to the school's Dedicated to Excellence campaign, which provided funding for the $9.5 million facility. School parents, grandparents, alumni, friends, and business partners came together to make the dream of an on-campus theater a reality. Major donors celebrated the opening of the Page Center with a recognition dinner and special preview of TKA Theatre Company's production of Funny Girl, which opened May 4th to rave reviews and sold-out performances. All donors to the Dedicated to Excellence Campaign are recognized in dramatic fashion on a beautiful water feature in the Esther B. O'Keeffe Lobby.