TKA's Strategic Plan 2017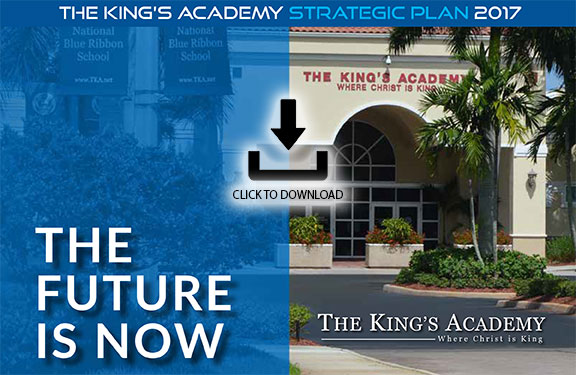 The past twelve months have been a joy in so many ways at The King's Academy. We have seen unparalleled success in academics, athletics, and the arts. More importantly, we have seen God work in the hearts, minds, and even the bodies of students, faculty, parents, alumni, and friends — many times in miraculous ways!
Last year's blessings remind me of Jeremiah 29:11:"I know the plans I have for you," declares the Lord, "plans to prosper you and not to harm you, plans to give you hope and a future." 
These God-given wonders have reminded me often to thank Him and those who have gone before for preparing a way for our current successes. It is the hand of God and the work of His obedient servants that have established The King's Academy as a premier Christian school with an incredible 47-year history. Each time King's Board of Governors meets, we take time through prayer to seek wisdom from God in decision-making and leadership. The same is true of our administrative team meetings. Over the past year, we have also spent time seeking direction and input from parents, faculty, staff, and friends regarding the future of The King's Academy. Today, we are conveying the results of these efforts to you.
The enclosed strategic plan for TKA is not about three years, five years, or longer; it is about the not-too distant future. We live in a world that moves at speeds like never before, with entire industries emerging in the time organizations previously managed strategic planning. Our environment also demands a new agility of organizations that, thankfully, King's has developed during the ups and downs of the past decade. Proverbs 16:3 instructs, "Commit your work to the Lord, and your plans will be established." So, we give Him this plan, knowing that He decides its ultimate timing (Proverbs 16:9).
The Future is Now focuses on five initiatives: Instilling Faith, Influencing Culture, Impacting Learning, Inspiring Innovation, and Initiating Growth in The King's Academy's students, faculty, programs, and facilities. I ask that you take the time to review all that this strategic plan contains and to join us in praying that the Lord will bless us each day as we work for His school's best future.
Thank you for the part you play in that future and for your support of The King's Academy!