Boswell Science and Technology Center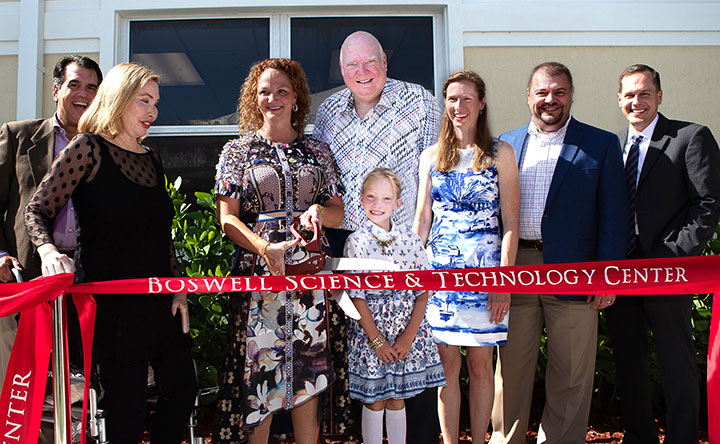 Ribbon Cutting Ceremony Program
One cheerful "Einstein" and a "mad scientist" held open the doors to the new Boswell Science and Technology Center, welcoming guests and staff to explore the hallways of scientific discovery at The King's Academy.
On August 13, 2018, more than 300 guests and staff members toured the pristine classrooms, laboratories and offices of The King's Academy's newest investment in Science, Technology, Engineering and Math (STEM) studies.
The Boswell Center includes three life science laboratories, a chemistry/physics laboratory, four flexible-design STEM classrooms and four offices.  Funding for the $2.7 million project came from gifts from parents, grandparents, alumni, and friends of the school. The building is named in honor of the lead gift from 1995 King's alum Holly (Loveland) and John Boswell of Palm Beach Gardens. The Chemistry/Physics laboratory is named in recognition of a major gift from Jan Smith of Sewall's Point; the Life Sciences laboratory is named in recognition of a significant gift from Mr. Raul and Dr. Jill Rodila of Palm Beach Gardens; and other naming opportunities are available.
At the ribbon-cutting ceremony, donors were invited to share their sentiments on the Boswell Center and what it meant to their families, who are deeply involved with the school. Randal L. Martin, president of The King's Academy, thanked everyone who contributed to the successful opening, just in time for the beginning of the 2018-19 school year, and his staff, who will teach the next generations of scientists, mathematicians and engineers.
"To our headmaster Doug Raines and our faculty and staff, thanks for the hard work and a brilliant strategy that has elevated The King's Academy among the elite schools in Florida," Martin said. "Doug and his faculty's accomplishments are long and so fun to list, including a National Blue Ribbon School of Excellence award, a nationally-distinguished STEM program, a 91 percent passing rate by AP students, a bursting-at-the-seams Explore elementary gifted program, tremendous percentage gains in the number of National Merit honorees, six thriving academic tracks with options in business, Pre-Law, STEM, sports medicine, the Conservatory, and Christian ministry; and from the Class of 2019 – six seniors with SAT scores over 1500 and 16 students with SAT or ACT-equivalents over 1400."
Construction began on the Boswell Center in September 2017. It was designed by Randolph Hansen of InterPlan Architects, Inc., and was built by Hedrick Brothers Construction.
ABOUT THE KING'S ACADEMY: Located at 8401 Belvedere Rd. in West Palm Beach, The King's Academy is a National Blue Ribbon, Christian school serving more than 1,400 students from preschool through 12th grade, and is accredited by AdvancEd, the Southern Association of Colleges and Schools, the Association of Christian Schools International, and the Florida Association of Christian Colleges and Schools. The King's Academy serves students and their families across Palm Beach County, Florida, at its campus at Belvedere Road and Sansbury's Way in West Palm Beach and its satellite preschool campuses in Boynton Beach, Greenacres, Loxahatchee/Wellington, Palm Beach Gardens, and Royal Palm Beach. More information about The King's Academy is available at www.TKA.net.