TKA's Christian Pre-Law Scholarships Program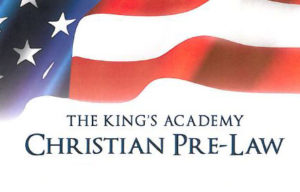 The King's Academy recently received gifts totaling $1,250,000 to fund the nation's first high school Christian pre-law program focused on the principles of liberty upon which the United States of America was founded.  King's piloted the program in 2016, with a full slate of classes in the 2016-17 school year, and the donors, recognizing TKA's commitment to excellence in all that it does, sought to accelerate the school's development of this groundbreaking program.  The donors wish to empower TKA to become the preeminent proponent of liberty principles such as free speech, free markets, individual liberty, and limited government. The donors have provided resources targeted to making the program stimulating, engaging, and relevant to contemporary attacks on freedom of speech, free markets, property rights, and other individual liberties.
One of the exciting elements of TKA's recent gift underwriting the nation's first Christian Pre-Law Program is a certain amount each year to augment TKA's financial assistance program for students interested in examining law classes at TKA.
Click here to see the requirements for applying for the TKA Christian Pre-Law Program Scholarships.  We encourage you to follow the application process in a timely manner if your student is interested! Completed forms must be received by noon on April 3, 2018.