TKA Students Perform at Presidential Inauguration Concert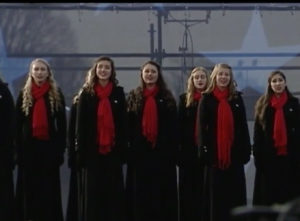 On January 17th, 80 vocal and dance students from The King's Academy Conservatory of the Arts, in West Palm Beach, Florida, traveled to Washington D.C. to perform in the 58th presidential inauguration festivities. TKA was one of 12 organizations nationwide to be invited to perform for President-Elect Donald J. Trump and Vice President-Elect Mike Pence in the "Make America Great Again!" welcome celebration at the Lincoln Memorial on January 19th, 2017. King's honors choir, His People, was selected for its "talent and enthusiasm" by William I. Greener III, executive producer of public events and ceremonies for the 58th Presidential Inauguration Committee. The choir and featured dancers, under the direction of TKA artistic director David Snyder, closed the inauguration's opening concert with an American medley of Irving Berlin favorites and "Let There be Peace on Earth."
Randal L. Martin, The King's Academy's president, commented, "We are honored by this prestigious invitation and are happy to join in our nation's celebration of the peaceful transfer of executive power, a hallmark of our republic. I am extremely proud of our fine arts students, whose hard work and excellence has made this historic opportunity possible."
The King's Academy, a National Blue Ribbon School of Excellence, has a history of performing in Washington D.C. In 1989, TKA band students played at the inauguration parade ceremonies for incoming President George H.W. Bush and Vice President Dan Quayle. In 1988, King's fine arts students performed at the White House during President Ronald Reagan's term.
TKA's award-winning Conservatory of the Arts is led by Mr. David Snyder (Artistic Director and Department Chair, Musical Theatre), Mrs. Sonia Santiago (Vocal Arts), Mrs. Cathy Higgins (Dance Arts, Ballet and Jazz), Miss Risselle Portuondo (Dance Arts), Mr. Brad Majzner (Stagecraft); Mr. David Skinner (Band Director), Mr. Wes Lowe (Assistant Band Director), Dr. Patrick Clifford (Strings), Mrs. Macey Norton (Digital Arts), Mrs. Laura McFaden (Visual Arts), Mrs. Mikah Diaz (Vocal Arts and Elementary Music), Miss Sarah Fahey (Acting), Mr. Gene George (Elementary Band) and Mrs. Robin Phillips (Piano).
The King's Academy is a National Blue Ribbon, Christian school serving more than 1,400 students from preschool through 12th grade, and is accredited by AdvancEd, the Southern Association of Colleges and Schools, the Association of Christian Schools International, and the Florida Association of Christian Colleges and Schools. The King's Academy serves students and their families across Palm Beach County, Florida, at its campus at Belvedere Rd. and Sansbury's Way in West Palm Beach and its satellite preschool campuses in Boynton Beach, Greenacres, Loxahatchee/Wellington, Palm Beach Gardens, and Royal Palm Beach. More information about The King's Academy is available at www.TKA.net.