TKA Student John C. Prieschl '19 Competed in 60th Annual Student Science Training Program at the University of Florida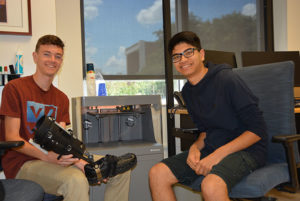 (West Palm Beach, FL) – John C. Prieschl, who will be starting his senior year at The King's Academy in West Palm Beach, recently completed the 60th Annual University of Florida Student Science Training Program (UF-SSTP) held June 10 – July 27, 2018.
The UF SSTP is a seven week residential research participation program for academically talented, upper-level high school students interested in pursuing a career in a STEM field. John worked 30 hours each week alongside a UF faculty mentor providing the opportunity to engage in an authentic laboratory experience. He participated in an interdisciplinary lecture series which allowed him to interact with eminent scientists, engineers, and scholars. John earned six credit hours through the program which focused on technical writing and professional communication skills, leadership development activities, educational field trips, service-learning, career exploration, social events, and recreational opportunities.
John worked with Dr. Daniel Ferris in the College of Engineering on work entitled The Effects of Exoskeleton Mass on Embodiment Using Unpowered Pneumatic Muscles. In addition to the active participation in the research lab, John wrote critical thinking papers, presented two science talks, created a science research poster, and completed a research paper based upon work done in the laboratory.
After completing the Engineering Track at The King's Academy's Boswell Science and Technology Center, King's newest academic learning center which will open for the new 2018-19 school year, John will earn a special distinction on his diploma. He hopes to pursue a degree in Biomedical Engineering in college and work specifically on exoskeleton projects.
The King's Academy is a 2014 National Blue Ribbon School for Excellence in Education. The private Christian school serves approximately 1,500 students from preschool through twelfth grade and is accredited by the Southern Association of Colleges and Schools, the Association of Christian Schools International, and the Florida Association of Christian Colleges and Schools. The King's Academy serves students and their families across Palm Beach County at its main campus at Belvedere Road and Sansbury's Way in West Palm Beach and its satellite preschool campuses in Greenacres, Loxahatchee/Wellington, Palm Beach Gardens, Boynton Beach, and Royal Palm Beach. More information about The King's Academy is available online at http://www.TKA.net.