TKA Announces Boswell Science and Technology Center
(West Palm Beach, FL) – The King's Academy today announced plans to construct a 12,000 square foot science and technology center on the school's West Palm Beach campus.  Slated to begin construction in September of 2017, the two-story addition to the school's beautiful 60-acre campus will include 4 life science laboratories, 4 flexible design STEM classrooms, and 4 offices.  Funding for the $2.7 million project comes from gifts from parents, grandparents, alumni, and friends of the school.  The building will be named the "Boswell Science and Technology Center" in honor of a significant gift from Holly and John Boswell of Palm Beach Gardens.  One of the laboratories will be named in recognition of a major gift from Jan Smith of Sewall's Point, and other naming opportunities are available.
"The Boswell Science and Technology Center will attract students to King's who aspire to cure disease, solve engineering problems, and provide technological solutions –  allowing needed opportunities to discover God-given passions rooted in STEM pursuits." –Randal L Martin, President
"We are so appreciative of the Boswell Family for their overwhelming generosity over the years; it is fitting that we recognize this gift with a building named in their honor. Holly (Loveland) Boswell graduated from TKA in 1995. John and Holly have 3 daughters who currently attend TKA. Likewise, Jan Smith, whose son Michael ('86) graduated and grandson Hunter ('27) is a current student, has been involved since the early 80's, and her generosity is allowing us to take our science programs to the next level of success in excellent Christian education." –Glenn Martin '88, Director of Development
The Boswell Center has been designed by Randolph Hansen of InterPlan Architects, Inc., and will be built by Hedrick Brothers Construction. A groundbreaking is scheduled for September 26th at 9am on the school's Belvedere Road campus.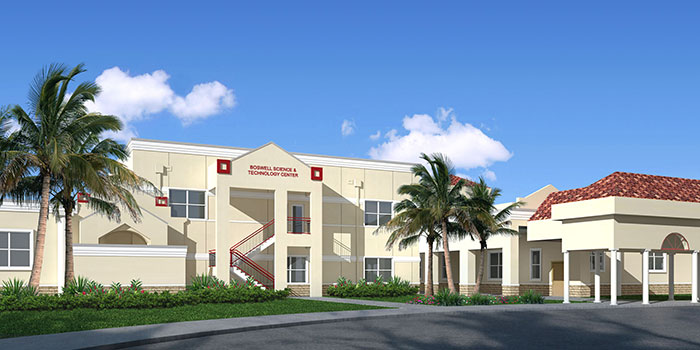 The King's Academy is a National Blue Ribbon, Christian school serving more than 1,400 students from preschool through 12th grade, and is accredited by AdvancEd, the Southern Association of Colleges and Schools, the Association of Christian Schools International, and the Florida Association of Christian Colleges and Schools. The King's Academy serves students and their families across Palm Beach County, Florida, at its campus at Belvedere Road and Sansbury's Way in West Palm Beach and its satellite preschool campuses in Boynton Beach, Greenacres, Loxahatchee/Wellington, Palm Beach Gardens, and Royal Palm Beach. More information about The King's Academy is available at www.TKA.net.