The King's Academy Launches Conservatory of the Arts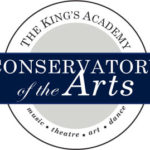 (West Palm Beach)-  The King's Academy is pleased to announce the launch of The King's Academy Conservatory of the Arts, a kindergarten to twelfth grade program that is committed to discovering and cultivating the extraordinary God-given talents of young artists.
The King's Academy Conservatory of the Arts offers an incredible breadth of options for all ages from Kidservatory, for students entering kindergarten to third grade, to Junior Conservatory for students entering grades four to eight, and finally culminating with the High School Conservatory of the Arts. TKA high school students will have the ability to refine their God-given artistic talents with a major in one of five disciplines, including Performing Arts, Instrumental Arts, Visual Arts, Dance Arts and Theatre Arts. The engaging faculty will nurture artistic talent throughout the traditional school day and during after-school enrichment offerings and private lessons. TKA's Conservatory of the Arts program is designed to conduct TKA's rigorous academics with inspiring creative experiences that ignite a lifelong passion for the arts.
The King's Academy is a National Blue Ribbon Christian school serving more than 1,300 students from preschool through 12th grade, and is accredited by the Southern Association of Colleges and Schools, the Association of Christian Schools International, and the Florida Association of Christian Colleges and Schools. The King's Academy serves students and their families across Palm Beach and Hendry Counties at its main campus at Belvedere Rd. and Sansbury's Way in West Palm Beach, its Clewiston campus on Caribbean Ave., and its satellite preschool campuses in Greenacres, Loxahatchee/Wellington, Palm Beach Gardens, and Royal Palm Beach. More information about The King's Academy is available at www.TKA.net.