Freshman Joshua Zuchowski qualifies for 2020 Olympic Trials
(West Palm Beach, FL) – On Friday, March 22, The King's Academy freshman Joshua Zuchowski broke the 13-14 National Age Group Record held by 5-time Olympic gold medalist Aaron Peirsol at the 2019 Spring International Championship meet in Clearwater, Florida. His time of 2:00.97 on the 200 backstroke broke Peirsol's 13-14 age group record by 2 seconds, qualifying Zuchowski for the 2020 Olympic Trials held in Omaha, Nebraska.
Currently, Zuchowski is the youngest male qualifier for the trials at 15-years-old. He is ranked 2nd in the nation among all 18 and under swimmers this season.
Zuchowski, 14, is the current national record-holder in the 11-12 age group in:

200-yard IM
200-meter IM
200-yard back
400-yard IM
400-meter IM.

Zuchowski is a current state champion after winning the 100-yard backstroke in 2018 FHSAA 1A State Championships this fall swimming a 49.20.
Zuchowksi placed second in the 200 IM at the 2018 FHSAA 1A State Championships with a 1:50.21
Zuchowski won the 2018 FHSAA district and regional titles in the 200 IM and 100 back this year
'Josh has grown in his faith and in his sport the last couple of years. God has certainly given Josh some gifts in the pool, but Josh is not wasting those gifts. He is relentless in setting goals then setting new goals that aim higher and push him out of his comfort zone. '- Jonathan Zuchowski, Aquatics Director and Head Boys' Swimming Coach
'The thing that makes me so proud that Josh is one of our student-athletes is that he has demonstrated extreme commitment to getting better. There many student-athletes that want to be great but they do not want to work to be great. Josh's appetite for the work is what sets him apart.' – Dr. Chris Hobbs, Director of Athletics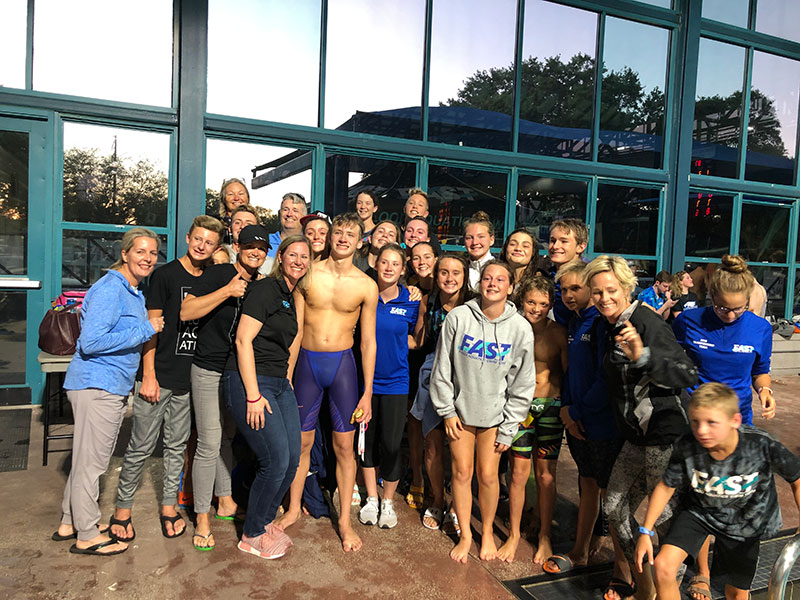 The King's Academy Athletic Department strives to use 'excellence in athletics' to have eternal impact on its student-athletes. A member of the Florida High School Athletic Association, the 'Lions' have claimed 122 district titles, 40 regional titles, and 11 state championships. Student-athletes at The King's Academy have gone on to successful collegiate athletic careers at some of the most accomplished universities in the country as well as professional athletic careers in baseball, basketball, football, soccer, and volleyball. The campus features facilities that would rival many small colleges; these facilities include the Loveland Athletic Center, Kahlert Stadium, the TKA Track & Field Stadium, and the Full-Page Aquatics Center. For more information about The King's Academy Athletic Department, visit www.tkalions.net or follow on social media, @TKALions
PHOTOS:
Josh Zuchowski, friends, family, and FAST Swim Club teammates pose for a picture after his record-breaking, Olympic Trial qualifying race.