Former Marlins catcher Jarrod Saltalamacchia serving as assistant coach at King's Academy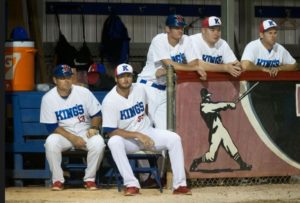 Palm Beach County baseball fans should recognize a familiar face in King's Academy's dugout this high school baseball season.
Former Major League Baseball catcher Jarrod Saltalamacchia is serving as an assistant coach for the Lions' varsity baseball team this season, coaching alongside fifth-year head coach and fellow ex-major leaguer Brad Wilkerson.
Wilkerson and Saltalamacchia first met as members of the Texas Rangers in 2007 after Saltalamacchia was traded from Atlanta as part of a package that sent Mark Teixeira to the Braves. Their paths would cross again years later when Saltalamacchia, a West Palm Beach native who played his high school ball at Royal Palm Beach High, expressed an interest in coaching.
"He talked to me a little bit last year about the possibility of coaching but obviously he found a (major-league) job late in the process so he played last year," Wilkerson said.
After a 12 year career that included stints with the Braves, Rangers, Red Sox, Marlins, Diamondbacks, Tigers (twice) and Blue Jays, Saltalamacchia announced his retirement during the offseason. He was added to the King's Academy coaching staff a short time later.
Saltalamacchia, 33, says his decision to coach at King's Academy was made in large part because of his strong Christian faith and what he's experienced at King's in the two years his daughter has attended the school. In addition to that, he wanted to give back to the local baseball community that helped him become a big-league ballplayer.
"I know when I was in high school, just seeing a big-league guy come in and hit on the field, I thought that was the coolest thing in the world, and I just wanted to pick those guys' brains a little bit more," Saltalamacchia said. "It was a way for me to give back to those kids, kind of like players in the past did for me."
The veteran backstop has been working with Lions pitchers and catchers this season.
"I trust him and his knowledge of the game and he's really helped, obviously, our catchers," said Wilkerson, who had an eight-year major-league career as an outfielder and first baseman with the Expos, Nationals, Rangers, Mariners and Blue Jays.
The King's Academy catching corps is lead by four-year starter Jake Gerardi, who has continued to fine-tune his abilities under Saltalamacchia's guidance.
"To have someone with his expertise to help guys like that, and the pitching staff, it's been awesome," Wilkerson said.
Saltalamacchia, who was a career .232 hitter with 110 home runs and 381 RBIs, has also been working with the team on hitting, helping create good habits with a young roster that includes only four seniors.
"We're a work in progress with hitters, we've got some young kids with not much varsity experience this year, so it's going to take time," Wilkerson said, "but it takes a lot of work and repetition and he's helping me with that and the hitting process."
Having two former major leaguers on the coaching staff provides a unique perspective into the habits and fundamentals needed to advance these young players' careers and the differences in the game as the players move from high school to, potentially, college or professional baseball.
"We get to play 162 games a year and these kids are going to play 30, at most, so there's a big difference," Saltalamacchia said. "You're going to learn by playing and experience, so we need to really harp on the fundamentals."
Saltalamacchia and Wilkerson's MLB experience also gives them plenty of credibility with their young players.
"I think because of what we've done in the game, these kids are more tuned in to what we have to say," Saltalamacchia said.