2018-2019 Presidents Report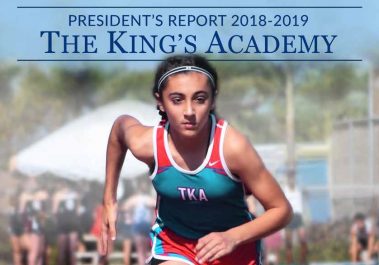 Naming Opportunities for Gift of a Lifetime Campaign
The school will honor the generosity of our donors with naming opportunities throughout the campus. We encourage you to consider honoring, memorializing or recognizing someone who has made a difference in your life, your family's life, or your child's life through a naming opportunity. CLICK HERE for Naming Opportunities.
View in Newsroom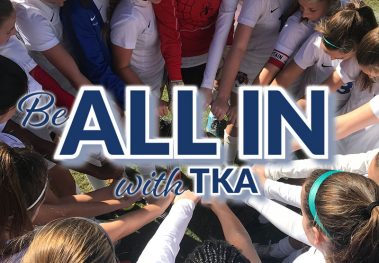 The King's Academy Conservatory Named in Recognition of a $1 Million Gift from Ms. Jan Smith
(West Palm Beach, FL) – On Saturday October 5th, The King's Academy announced the naming of its nationally recognized fine arts program, The Smith Family Conservatory of the Arts, in honor of Ms. Jan Smith's generous $1 million gift to endow the program. Enthusiastic patrons celebrated Ms. Smith's generosity in a memorable fashion. The King's […]
View in Newsroom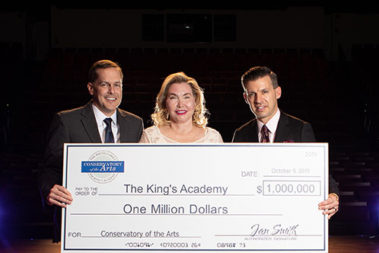 Annie Smith Becomes TKA's Volleyball All-Time Leader in Blocks
(West Palm Beach, FL) – Annie Smith ('21) is tall, about 6'1″. Too often though, being tall comes with an assumption of being skilled and that is very rarely the case.  To be skilled, especially in athletics, you have to work and that is what Annie Smith has combined with her height to take herself […]
View in Newsroom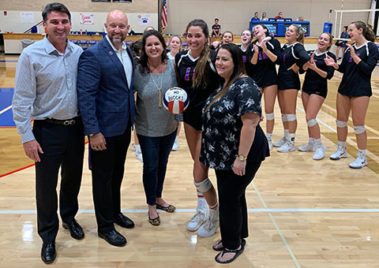 The King's Academy will host an Open House for all prospective families Thursday, November 14, 2019 from 9am – Noon and 4pm to 6pm. Come tour our 60-acre campus with a student ambassador and meet our faculty, staff and administrators to find out more about the exciting opportunities available for your child at The King's Academy! […]
View in Newsroom
TKA Students Lead a School-Wide Effort to Help the Bahamas
When The King's Academy students saw the great need of those affected by Hurricane Dorian, they stepped right up. From TKA's youngest students in Junior Kindergarten to senior Prefects, TKA students initiated a weeklong hurricane relief effort, which resulted in a 26-foot truck being filled with much needed items for our Bahamian neighbors. First grade […]
View in Newsroom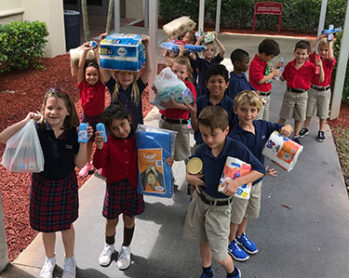 The King's Academy Conservatory of the Arts 50th Anniversary Broadway Spectacular
The King's Academy Conservatory of the Arts (TKA) and Manhattan Concert Productions (MCP) are proud to announce the Golden Anniversary Broadway Spectacular
View in Newsroom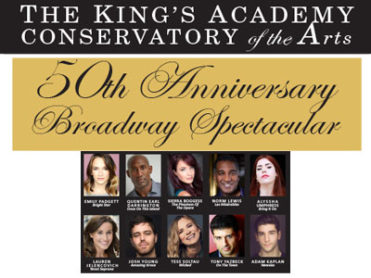 Impacting the Next With a Gift of a Lifetime The 2019-20 school year marks the 50th Anniversary of The King's Academy. King's remains a light in the community and the Lord has blessed the school beyond expectation. As we look toward the next 50 years, we remain committed to our mission of equipping students to […]
View in Newsroom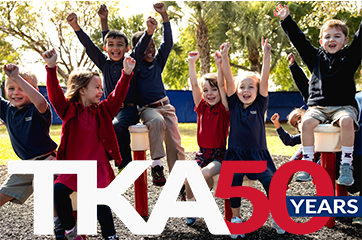 TKA TV Recognized as Top 30 High School YouTube Channel
This week, Feedspot.com named TKA TV to its "Top 30 High School Youtube Channels To Follow in 2019″
View in Newsroom
Three-Time FHSAA State Champion, Murray Smith, as New Head Boys' Basketball Coach
(West Palm Beach, FL) – The King's Academy is pleased to announce that Coach Murray Smith will taking over the reins of the school's boys basketball program. Director of Athletics, Dr. Chris Hobbs, announced on Monday afternoon that he is stepping down as the school's current boys basketball coach and installing Coach Smith.     'I love […]
View in Newsroom
TKA
Exceeds
Authentic. Christian. Education.
The King's Academy is a College Prep School for Grades K4-12.
TKA
Opportunities
At The King's Academy, your child can explore areas of interest and excel in areas of giftedness.
We Excel:
22 AP Classes; 8 Dual Enrollment Offerings;
STEM & Gifted Programs;
55 Honors Classes
We Perform:
150 public performances with
bands, choirs & dance
We Compete:
23 Varsity Sports; 48 Total Teams
We Travel:
St. Augustine (FL), Washington D.C., Philadelphia, New York City, Costa Rica
We Worship:
Chapels, Classes & Bible Studies
We Serve:
Access Life, Urban Youth Impact,
Operation Christmas Child & more than 30,000 hours of community service
TKA
Graduates
$7 million in college scholarships each year
100% acceptance to four-year colleges and universities
30,000+ hours of community service is donated each year by students
2014 National Blue Ribbon School of Excellence
TKA
Mission
Our mission is "to graduate Christian leaders who seek to impact their world through academic excellence and spiritual vitality."
TKA
Welcomes
When asked "Why TKA?" ourstudents gave us hundreds of reasons!
You can mouseover some of them below...
For More Information
There's nothing we love more than helping people learn about The King's Academy.
Select a button below to get started.
Email Us
Apply Now
Request Information
Or call us directly at (561) 686-4244, Ext. 335 for a personal conversation.